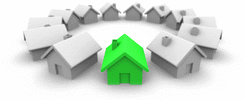 Independent Living Aids: Stair Lifts
Some seniors have a difficult time climbing and descending stairs, especially if they have a heart or respiratory condition, or require the use of a wheelchair. This makes it very inconvenient to reach all areas of their home. Should you have such difficulties, a chair lift may be the answer to your problems. You should take the following into consideration when deciding what type and model of chair lift to use:
Your Physical Condition
If you use a wheelchair, you will require a device that can carry you and your wheelchair, with enough room at the bottom and top of the stairs to enter and exit safely. If you don't use a wheelchair, a more simple and less costly stair glide may be a better option for you. You should be mindful of not only your present physical condition, but your future one as well. Is your condition stable, or will your needs change in the near future?
The Design / Structural Attributes Of Your Home
Are the stairs you wish to modify the proper size? Most stairs are wide enough for a simple stair glide, however a wheelchair lift requires more space (about 1yd/1 m square). A winding staircase will require a more expensive model. Is your home structurally sound? Any vertical lift mechanism requires strong structural support, so installing it on a supporting wall or corner is a must. Outdoor lifts may require the construction of a shelter to shield it from harsh weather conditions or vandalism.
Your Dealer And Price
Check the references of any dealer you receive a quote from, check how long they've been in business, and make sure they are licensed to install and maintain stair lifts in your area. Often a medical or surgical supply dealer will partner with an elevator company to provide you with the best service. Your final price or quote should include the cost of the equipment, plus all installation charges. The quotation should be free of charge. Keep in mind that depending on where you live, these devices should be exempt from all sales taxes, and may qualify as a medical deduction on your tax return.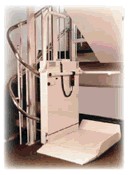 Your Other Options
Are your stairs short and shallow enough to install a ramp? Can you alter some of the rooms of your home to live entirely on one floor? This may seem extreme, but considering the cost of stair lifts, may be a reasonable option.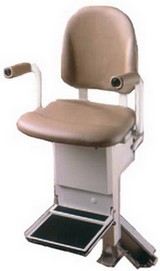 Above:
A wheelchair stairlift will transport a wheelchair and its occupant. They require a stronger motor than a stair glide, with a sturdier rail and cable system. Outdoor models are also available.
Above:
A stair glide uses a simple rail and chain system secured to the wall beside the stairs, and is powered by a small motor.


More Medical Alert Resources On MedicalAlertReviews.Com: