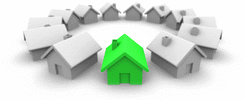 Independent Living Advice: Barriers To Independence
Most seniors, given the choice, would prefer to stay in their own homes and communities for as long as possible. However, many will encounter barriers or obstacles to maintaining an independent lifestyle. These include problems related to physical or emotional health, lack of a proper support network (community programs, family), housing, safety and security, mobility, and communication.
When it comes to independent living, the most common barrier to seniors is poor physical health. This can be any number of ailments and disorders, including vision and/or hearing loss, arthritis, incontinence, dental problems, or difficulty following a physician's prescriptions properly. 71%* of seniors report physical problems as a significant barrier to their independence.

Emotional and mental health issues were cited by seniors as the second largest barrier, at 52%*. These issues can include depression, anxiety, stress, loneliness, grief, or fear of increased dependency on others. Memory loss, confusion, or dementia can fit into this category, as well. Dealing with these issues is clearly a prerequisite of the independent lifestyle seniors wish to maintain.

Transportation and mobility are essential for living normally within a community. Difficulty in getting to necessary services (social centers, bank, grocery stores, doctors, churchs, etc.), and being afraid to go out (because of inadequate snow removal, sidewalk maintainence, etc) are reported by 50%* of seniors as serious barriers to their independence.

Community-based support services can assist seniors in remaining in their own homes and communities. Most seniors depend on their families for support, but various types of community-based programs have also been developed to provide further assistance. These include home health care, meals-on-wheels, help with shopping, laundry, or housekeeping, and/or yard work and snow removal. A lack of such programs was seen as a barrier by
48%* of seniors consulted.

Safety and security is a source of great concern by 44%* of seniors. In living alone or just walking on the street, many seniors feel they are easy targets. Anxiety and fear, even if unfounded, can have a paralysing effect on seniors ability to live independently.

Proper housing is considered a major factor by 43%* of seniors in maintaining a proper quality of life. Housing must consist of more than just adequate shelter. A safe home that includes proper independent living aids can make the difference between comfort and a high degree of inconvenience.

Communication and access to information are as important to seniors (43%*) as they are to all of us. Access to information can make adjusting to being older a lot easier - seniors need current information about financial planning, safety, consumer products, and legal matters. They need to know how to find the right people to ask for needed services. In addition, some seniors find communication difficult due to language barriers, lack of reading or writing skills, or physical handicaps.

*: Figures from The National Advisory Council of Aging, Ministry of Supply and Services Canada, 1989.


More Medical Alert Resources On MedicalAlertReviews.Com: