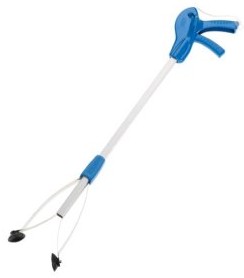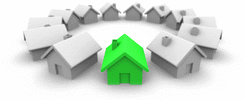 Independent Living Aids: Reaching Devices
Reaching for anything can be quite a chore if you have a weak or painful grip, or limited range of motion. Grasping, turning, pushing or pulling can be much easier for you with a reaching aid. The reaching devices on this page are appropriate for a wide range of tasks and activities:
You can modify your reacher to suit your needs: add a magnet to the end for picking up metal objects, a hook for pulling items toward you, and/or velcro to attach the device to your easy chair or walker. Many reachers can be folded for easy transport.
Reaching aids come in a variety of lengths depending upon the task they are designed for. They all generally consist of a clamp controlled by a trigger mechanism. To keep the weight of the device to a minimum, they are usually constructed of plastic and/or aluminum tubing. There are three lengths available:
Once you've pulled your garment on, you will need to fasten it. For buttons, a simple button hook makes the task easy. Simply push the hook through the buttonhole, attach it to the button, and pull it through. For zippers, add a loop of string to the zipper itself. This will make catching the zipper with your fingers or dressing hook much easier.
The shortest models are about 24'' or 60 cm long, and designed for reaching objects on nightstands, kitchen counters, or office desks.

The medium-length models measure around 28'' or 70 cm in length, handy for
reaching higher shelves or picking up items from the floor.

The longest models can measure 32'' or 80 cm, for those who require
an extended reach.
How Can A Reaching Aid Make My Life Easier?
In the kitchen, you can use your reacher to retrieve items from the back of your fridge, operate rear-mounted controls on your stove, even take a hot potato out of the oven! In the bathroom, you will be able to reach soap or towels directly from the bathtub or shower. Around the home, you can attach a rag to your reacher for cleaning and dusting. The possibilities are endless!!
Above:
A store-bought reaching device. You can make your own device with a piece of wood, some wire, and a hook.


More Medical Alert Resources On MedicalAlertReviews.Com: