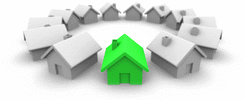 Independent Living Aids: Kitchen
Seniors often limits themselves to a poor or bland diet, simply because they lack the physical means to prepare and/or eat their own meals in a safe and efficient manner. But these ingenious kitchen devices can make food preparation safe and convenient, and you can easily find these devices at your local hardware or kitchen supply store:
Tableware:
You can find plates, dishes, cups, and glasses designed specifically with independent living in mind. Some plates are designed with a curved inner wall and raised rim to help guide food onto your fork. Heavier plates are less likely to slip, and will keep your food hot for a longer period of time through heat retention. Other plates with built-in partitions can keep foods from mixing with each other can be found almost anywhere, especially medical supply stores.

Left:
A simple stainless steel plate guard.

Left:
Curved plate edges help guide food onto your fork or spoon.

Try a specially designed cup to make drinking easier - a cup with a pedestal can help those with arthritis or weak grip; those with limited ability to move their neck can use a cup with an angled rim; or a cup with a lid can reduce spills.
If you can't afford brand new dishes, you can always adapt the ones you have to make them easier to use. For example, use metal or plastic plate guards that can be added and removed with ease. Non-slip matting called Dycem, a damp cloth, or suction cups can be used to stop plates from moving around the table.

You can add handles to glasses (left) or mugs for better grip and stability. Make your own, or buy them ready-made at medical supply stores or gourmet kitchen shops.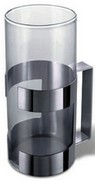 Above:
A partitioned plate prevents foods from mixing with each other.
Cutlery:
If you have a weak grip due to arthritis, limited range of motion, or a lack of flexibility, you can use specially designed utensils, or modify your own.

Many seniors find using utensils with built up handles much easier to grip and use. Cutlerly of various weights are also available. In addition, those with wrist problems can use a fork or spoon with a swivel or self-levening mechanism.

You can modify your own utensils by purchasing Rubazote, which is foam rubber tubing that you can cut to fit any length of handle. Or simply build up a handle using masking tape.

Above:
These utensils have built-up handles for easy grip, and are able to swivel to any position.
Food Prep: Cutting and Chopping
For maximum safety while cutting or chopping foods, use a cutting board with exposed stainless steel nails pointing up to impale and hold meat, fruits, vegetables, etc. You can purchase one, or make your own. Even safer is to attach a layer of Dycem to one side of the board to prevent slipping.

Another safe and handy chopping device is a wooden chopping bowl. These bowls usually come with a five blade chopper and have a sturdy, non-stick base. Graters with suction feet and a bin to hold the grated food are also helpful.


Food Prep: Beating And Mixing
Be sure to use bowls with rubber rings attached to the base, and enough weight to prevent slippage. Dycem or a damp cloth can also be used for additional stability. Another option: cutting boards are available that fit directly over your sink, with a hole cut to fit a bowl or strainer. This enables you to use the bowl without having to steady it, and add chopped ingredients into the bowl easily.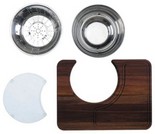 Cooking
Oven mitts are an essential item while using your oven or stove-top burners. If you have trouble with carrying pots or pans over long distances, you can place heatproof pads in different areas of your counter top to use as "stepping stones". This way, you won't have to hold a heavy pot or frying pan for too long a time. Also try using a clip on pot handle, so you can use both hands to lift the pot.

To hold a pot steady while you stir, metal wire frames with suction-cup bottoms can be used to hold them in place. When frying bacon or other thinly sliced foods, a cast aluminum device can be used to sit on top of the food, and reflect rising heat. Both sides will be cooked without the need to flip the food over. If you are boiling vegetables, a deep fry basket with a handle can be used to add and remove the food with ease.

A common complaint with seniors is the inability to handle a kettle or teapot safely. This problem is easily solved by using a simple tipping platform, available at most medical supply shops. If you're handy, you can even make one yourself.


Right:
Non-slip
wooden
cutting bowl.
Left:
Grator with
suction-cup bottom.
Left:
Over-the-sink cutting board.
Above:
Device to hold pots in place.
Above:
Teapot and/or jug tipper.


More Medical Alert Resources On MedicalAlertReviews.Com: