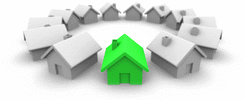 Independent Living Aids: Getting Dressed
For those with arthritis or poor range of motion, getting dressed and undressed every day can be somewhat of a challenge - simple devices like zippers, laces, belts and ties can be instruments of torture! If you're having problems getting dressed, some of these aids and ideas can make this daily task a lot easier:
Where Can I Get The Items Described On This Page?
Medical and surgical supply stores carry most of these items, or you can easily make homemade versions with items sold at sewing or arts & crafts stores.
Try Some Of These Dressing Aids:
Pain or stiffness in your arms, shoulders, and/or back may complicate the task of dressing and undressing. Socks, hose, slacks and underwear can be particularly difficult. Keep in mind that any dressing aid should be:

Lightweight but sturdy;
Able to hold the garment open to insert your arm, foot, etc;
Able to help you reach your clothing and pull it towards you;
Able to pull your clothing on without putting stress on your back; and
Able to attach and detach from your clothing with minimal effort.
Another dressing aid you can make at home is called a "T-form". This is simply a wooden pole about the length of a broom handle, with a shorter piece of wood attached at the end to create a "T" shape. The "T" part of the device can hold open your slacks, for example, while you put them on. You can also add hooks or clamps at either end of the "T" to hold the clothing more firmly, and sew in additional loops to the inside of your slacks, shirts, etc.

A simple and easy to make dressing aid can be made by affixing a clamp, hook, or clothes peg to a length of rope, wood, or fabric tape. Or you can "unfold" a metal wire hanger and form a hook at the end. Attach your clamp, hook, etc. to your clothing to reach, pull, or zip.
Once you've pulled your garment on, you will need to fasten it. For buttons, a simple button hook makes the task easy. Simply push the hook through the buttonhole, attach it to the button, and pull it through. For zippers, add a loop of string to the zipper itself. This will make catching the zipper with your fingers or dressing hook much easier.

Above:
A store-bought dressing hook.
Below:
A simple button hook.


More Medical Alert Resources On MedicalAlertReviews.Com: