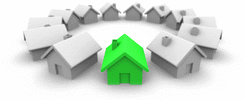 Independent Living Aids: Bathroom
More accidents happen in the bathroom than in any other room of the house. Being independent in the bathroom is extremely important to seniors, for obvious reasons. To avoid slipping or falling, you should take measures to ensure your bathroom is safe and accessible.
Bathtubs And Showers:
Slippery showers and tubs are a leading cause of accidents in the bathroom. Thankfully, there are plenty of options available to solve the problem:

Rubber mats with suction cup bottoms;
Safety treads that stick directly onto the floor of your tub or shower;
A chemical non-stick treatment to permanently etch the surface of the tub (needs to be done by a professional), or;
Tub rails and grab bars to assist you when entering and leaving the tub or shower.

It is important to test the water temperature before entering the tub. This will avoid scalds or sudden relfex movements that could cause a loss of balance.
Organization:
Try to keep any items you commonly need close at hand, within arms reach. If you use any type of reaching aid, be sure to place it beside the tub before you enter. If you usually have baths, use a shelf that sits on either edges of the tub to hold brushes, soap, magazines, etc.
Washing And Scrubbing:
There are devices available that make scrubbing much easier than just using your hands. Choose a brush with a sponge or bristled tip, with a large handle that's easy to hold. You can also use a nail brush with suction cup bottoms for hands-free washing. For hard to reach parts of the body, use a brush with extended and/or curved handle. You can find these special brushes at most medical or surgical supply stores.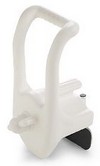 Above:
This grab bar easily fits to the side of your bathtub.
Right:
This nail brush attaches to your tub or shower wall.
Right:
Brushes with long, curved handles make washing your back a snap.
It is recommended that you use soap on a rope, or even better, a liquid soap and shampoo dispenser. These are designed to hang on your shower fixture for easy access. Shower caddies and hooks are also available just about everywhere.
Above:
Use a store bought bathtub shelf, or make your own with a strip of wood 1' wide.
Bath Lifts:
A bath lift is an elevating device that attaches to the wall of your bathtub, or sits inside the tub on suction cups. They feature a seat that rises and lowers using hydraulics. Essentially, you sit in the seat, raise it, swing the seat over (to the top of the water), and lower yourself in. After your bath you can raise and swing the seat again to leave the tub.

Should you use a bath lift? If you only have trouble entering and leaving the tub, but otherwise have good balance, coordination, and rang of motion, a bath lift may be right for you.

Bath lifts can be a major investment for someone with a fixed income. Be sure to ask any dealer (look in the yellow pages under hospital, medical, or surgical supplies) about the lift's weight limits, and weak points. Does the unit have a guarantee? How long does it take to get replacement parts if the unit breaks down? Can you return the unit, or get a replacement model? Ask these questions before you buy.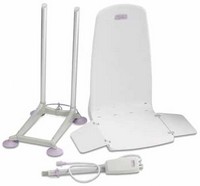 Above:
A basic bath lift system. This model does not swing, but there are more expensive models that do.
Toilets And Toilet Seats:
For safety, the height of your toilet seat is critically important. Most standard toilets are about 4" (10 cm) shorter than the average chair. Therefore, if you have problems with getting in and out of a chair unassisted, you will most likely have the same difficulties with toilets (especially getting up!). One solution is to have grab bars installed beside the toilet to assist you. Another is to simply raise the height of your toilet seat.

To find the height that will work best for you, close your toilet's lid and try stacking a phone book or pieces of wood on it until you find a height you're comfortable with. If in doubt, consult with an occupational therapist.

There are several options when it comes to raising the height of your toilet seat. You can purchase an adjustable model, preferably with attached grab bars for added stability. These portable models can be removed and taken with you on trips, as well.

Other models come in a fixed height, and made entirely of moulded plastic. They are light, fit snugly onto the lid and come in a variety of contoured designs (for example, some are designed specifically for those with hip or spine problems). You can also choose a model with padded seats, or internal grab bars. Shop around and pick the perfect model for you before making your decision.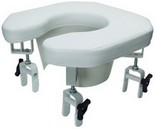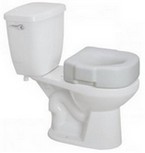 Above:
Adjustable height toilet seat.
Above:
Fixed height toilet seat.


More Medical Alert Resources On MedicalAlertReviews.Com: